Back to all posts
Posted on
Working Leather at J.T. Foster High School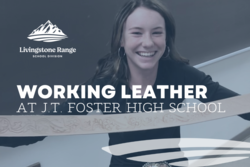 Though it may have originally been seen as a class for the "country kids", Junior and Senior Leather classes at J.T. Foster High School have become so popular with students that it's difficult to keep up with demand.
"The students have developed an interest and understanding that this is simply another art form," says Landon Hatch, who has taught leatherworking classes at the school for the past four years. "The opportunity for these students to develop an appreciation for a  trade that has largely disappeared from modern society really aligns with the 'Every student, every day' philosophy of our Division."
The Junior Leather class for Grade 7-9 students focuses on the basics of leather working and is offered twice per year. Teacher-directed projects such as belts, spur straps, earrings, and wallets give students a feel for the work and necessary skills.  Students can then move on to projects of their own design, completing significantly advanced works such as saddle bags, moccasins, and scabbards. 
High school students in grades 10-12 can earn credits in Senior Leather 15, 25, and 35, offered twice per year. "The majority of the students who are taking these classes, have previously taken my Junior Leather class," says Landon, "and they are able to jump straight into personal projects or requests that they have received from community members."
Students can sell their work and may even earn additional credits from associated business options if they market their products. If a student decides to sell their products, they must reimburse the school for materials used and then the student may keep the profit. 
"It is only thanks to community support, especially Mosquito Creek Game Birds, that I am even able to run this option class," Landon says gratefully. "Simply put, leather is not cheap. However, thanks to the support of many community members, I am able to make this learning opportunity available to all students here in Nanton." 
Landon's own interest in leatherworking was sparked while watching his grandfather. Picking up a number of fundamental skills from him, Landon continued to pursue this hobby as he grew older. He now has the opportunity to continue his learning by bringing his passion into the classroom.
"It is my hope that they will not only walk away from my class with a few high-quality products," says Landon, "but with an interest that will last a lifetime."