Parents + Students
Surveys
Surveys are conducted on a regular basis to ensure that J. T. Foster, Livingstone Range School Division and Alberta Education are meeting the needs of our students and community.
Gathering feedback and perspectives from stakeholders and beneficiaries provides insight into the attitudes and opinions of our school community towards the performance of our school. Conducting survey research is an important tool for determining what is working well, where improvement is required and how it can be achieved.
Thank you for your participation in our surveys.
Accountability Pillar Survey
Starting this year, all parents/guardians who receive the Accountability Pillar Parent survey will have the option to complete the survey either online or on paper. The online version of the survey is available in English and French.
Here is the link, https://public.education.alberta.ca/APOS/
As an annual check-up on the education system, the Accountability Pillar provides an opportunity for Alberta Education and school authorities to ensure that we are equipping students for success.
The Accountability Pillar uses a set of 16 indicators. Data on these indicators consists of surveys of students, parents and teachers on various aspects of education quality, student outcomes such as dropout and high school completion rates, and provincial assessments of student learning.
From January to the end of February, Alberta Education will be conducting the annual Accountability Pillar Survey.  
In January, parents of students in grades 4, 7 and 10 will receive a survey from Alberta Education. 
In February, students in grades 4, 7 and 10 and all teachers will be completing their surveys online at school. 
All surveys are anonymous and ask questions about experiences with your school.  In addition to English and French, the parent survey is available in Chinese, Punjabi, Arabic, Blackfoot, Dene, Cree, Korean, Spanish, Tagalog and Urdu.
Your participation in the survey helps provide important information on the quality of education your child is receiving, so we encourage you to return your survey promptly.
Survey results will be available to school authorities in May, and will be reported publicly as part of their 3-Year Education Plans and Annual Education Results Reports.
Financial Assistance (for Sports)
From time to time students would like to take part in extra curricular activities like sports but are not able to for financial reasons. If this is the case for your family we encourage you to investigate these supports;
Alberta Kidsport or Jump Start for Kids
Comries Sports Equipment Bank at https://www.comriessportsequipmentbank.org/ is another source that might be able to assist you with used Sports Equipment in Southern Alberta!
Resources for Parents During COVID-19 School Closure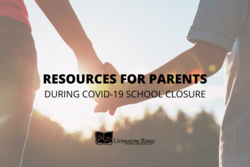 As parents, students, and families adjust to new conditions and learning environments because of COVID-19, we want everyone to stay well physically, emotionally, and intellectually.
Our professionals have curated resources to help families: tools to help structure your days at home, fun activities to do online, ideas for staying physically active, positive mental health strategies and hotline phone numbers, emergency & financial support contacts, and supports for First Nations, Metis, and Inuit families. 
Explore Resources for Parents During COVID-19 School Closure and share it with your family and neighbours. We're all in this together. And LRSD is here for you.
JTF Home BINGO Challenge!
Send a photo of you working on your bingo sheet to s-jtfoster@lrsd.ab.ca to be recognized on our Social Media pages!
Pet Parade Challenge
Let's have some fun! Send us a photo of your pet (and you) to s-jtfoster@lrsd.ab.ca with a caption or just your name by Thursday, April 9. We will share it JTF Social Media sites showing how they are coping with having you in their life constantly!
19-20 Science 8
Mr. Hatch has the Science 8 class dissecting organs in the lab!
School Photos