Back to all posts
Posted on
Nanton Schools Grade Configuration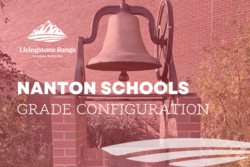 To All Parents/Guardians, Staff, and Stakeholders in the Nanton community:
This week local newspapers incorrectly reported on the grade-level configurations for the Nanton Schools. Livingstone Range School Division's request to Alberta Education was for a new Kindergarten to Grade 6 elementary school building and modernizing the current A.B. Daley Community School building to house Grade 7-12 students. This proposal received design funding approval from Alberta Education on March 1, 2023 and continues to be our plan for the Nanton Schools. The grade- and school- configurations will not change at the new and modernized schools.
We thank our community for your ongoing commitment to the students of Nanton and area.
Sincerely,
Lacey Poytress
Chair, Board of Trustees