Back to all posts
Posted on
Help Us Develop Our New Guiding Statements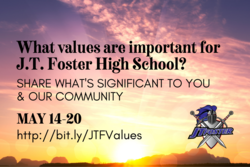 What do you envision for our school? What core values are important to our community? 
J.T. Foster High School is developing a new Mission Statement, Vision Statement, and Core Values - and we want your input!
Roger Doucet, J.T. Foster Principal encourages stakeholder participation. "Our focus is to ensure that the school vision and mission align with our more significant communities' values."
From May 14 to 20, we invited parents and community members to share your thoughts and ideas through our online Thoughtexchange tool. Share comments, rank other's ideas, and see what values are truly important to our school and town community. Visit http://bit.ly/JTFValues to participate.
"A Thoughtexchange will provide us with the necessary knowledge to construct a new mission, vision and core values statement for the school," says Mr. Doucet.