Back to all posts
Posted on
J.T. Foster Incident - June 7, 2023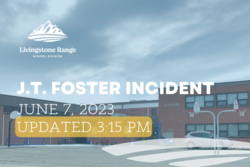 UPDATED 3:15 PM
This morning a bomb threat was received at J.T. Foster High School via an anonymous phone call. The RCMP were immediately contacted and responded to the incident according to their protocols. J.T. Foster students and staff were evacuated, first outdoors and then to A.B. Daley Community School. By early afternoon the RCMP determined that there was no danger at the schools and are continuing their investigation to determine the source of the threat.
School will resume as normal tomorrow, with an increased police presence and additional staff supervision.
We understand that this event may have caused stress and concern for both you and your child. Please be assured that the safety and security of our students remain our top priority and we have taken every precautionary measure to ensure their well-being throughout this situation. We encourage you to reassure your child that their safety is our utmost concern. Please listen to them, address any concerns they may have, and provide them with support during this time.
Our school counselors, Angie Conway and Tracey Wallace, continue to be available at both J.T. Foster and A.B. Daley schools to support students and staff following this incident.
We would like to thank you for your understanding, cooperation, and support throughout this challenging situation. We will continue to work diligently to ensure a safe learning environment for all students.
If you have any questions or need further information, please do not hesitate to contact the school offices: J.T. Foster: 403-646-2264 or A.B. Daley: 403-646-3161.
--------------------
11:45 AM
This morning  J.T. Foster High School administration was made aware of a threat towards the school. Students and staff were evacuated and the RCMP are on the scene to assess the school. 
J.T. Foster students are now safely waiting at A.B. Daley Community School. A.B. Daley students are in a Hold & Secure and their learning continues.
Parents may pick up students at A.B. Daley. Students who have a vehicle at the school and have permission to leave will be escorted to their vehicle and may leave. Parents must provide permission for students to leave school. This can be done by calling A.B. Daley at 403-646-3161.
Students who do not have permission to leave will stay with school staff at A.B. Daley School until the situation is resolved or until the end of the day.
We will continue to communicate with you as the situation unfolds.