Back to all posts
Posted on
J.T. Foster Relay for Life 2023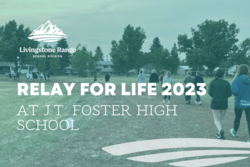 The J.T. Foster High School community came together to raise $8,189.55 for the Canadian Cancer Society in their sixth Relay for Life!
Participants collected donations online and in-person prior to the relay event on June 9, 2023. Eighty-one students as well as community members participated in the Relay which began with Opening Ceremonies and a Survivor's Lap led by Charlene Baxter, John Doerksen, and Hala Lacoste.To begin the Luminary Ceremony later in the event, Grade 10 student  Jennifer Doerksen, (John Doerksen's daughter) shared her experience with her dad's cancer and how it impacted the entire family. For 8 hours, at least one member of each relay team must be walking or running on the track. 
J.T. Foster was one of only 4 Alberta high schools to host a Relay for Life event this year. The school has participated since 2016, and the event is organized by the school's student leadership group and many volunteers. 
Despite thunderstorms throughout the day that meant moving the relay indoors for a period of time, the participants enjoyed the experience. While students were not walking on the track they were playing outdoor games, face painting, resting in the shade, or enjoying a barbecue with lots of food. Many members of the community joined the festivities during the day that focused on bringing hope to all those affected by cancer.
Staff organizer Jenna Flitton says, "Sharing in each other's loss, providing one another with support, and spreading courage reminds us all that no one should face cancer alone."
The students and staff wish to thank all those who helped make the event so successful, including:
Everyone who donated to the Canadian Cancer Society
Cargill for donating 200 hamburger patties
Nanton Lions for donating the use of their commercial-size BBQ & propane
Nanton Leos for providing the music
Nanton Boosters, Nanton Promotors, Nanton Bus Society & J.T. Foster High School Council for funds to purchase food for the BBQ
Brenda Southgate's son Morgan Southgate, who harrowed the track for us in preparation for the event
Bev McNutt's student leadership group for organizing the event 
All the volunteers and chaperones