Back to all posts
Posted on
Jason MacDonald Named Principal of J.T. Foster High School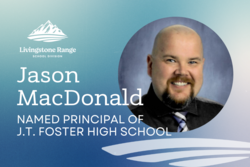 Livingstone Range School Division is pleased to announce that Jason MacDonald has been named Principal of J.T. Foster High School in Nanton beginning in the 2023-2024 school year. 
Jason holds Bachelor of Arts, Bachelor of Education, and Master of Education degrees from the University of Prince Edward Island. He received his Principal Certification from the University of Alberta. Jason began teaching in LRSD in 2018 and has been J.T. Foster's Assistant Principal and Learning Support teacher since February 2022.
"Jason has a wealth of knowledge and experience working with teachers to build their capacity to meet student needs and provide high-quality learning environments," says Darryl Seguin, Superintendent of Livingstone Range School Division. "His previous experience as a Division Student Engagement Coordinator, Professional Development facilitator, and instructional coach will serve the J.T. Foster school community well." 
Feeling grateful for his experience so far in the community of Nanton, Jason is excited to continue in school administration. "Having the opportunity to work alongside students, staff, and parents at A.B. Daley Community School and J.T. Foster High School has been a true blessing," says Jason. "I look forward to continuing our relationships together and building new ones on our journey to support our Nanton students."
A native of Marshfield, PEI, Jason now lives in High River with his wife, Heather, and dog Axle. When he's not teaching, Jason enjoys reading, camping, and staying connected with family and friends.
Congratulations to Jason on his new leadership role!