Back to all posts
Posted on
Nanton Engagement Session March 2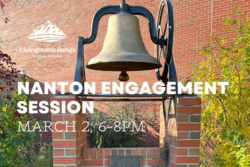 Parents, staff, and community members are invited to a community engagement session with the Livingstone Range School Division Board of Trustees and senior administration to discuss secondary school programming and potential partnerships for the Nanton schools. The meeting will focus on gathering input from stakeholders about course offerings and community collaboration opportunities; facilities and building plans are not part of this engagement session.
Thursday, March 2, 2023
6:00-8:00 pm
J.T. Foster High School, 2501 22 Street, Nanton
For more information about the Nanton Solution, including frequently asked questions, visit www.lrsd.ca/nantonsolution.