Back to all posts
Posted on
Nanton Solution Engagement Session March 2, 2023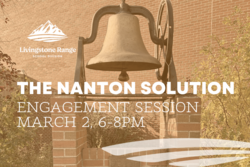 The Livingstone Range School Division Board of Trustees invites stakeholders to a Nanton Solution engagement opportunity. Although the Government of Alberta has not made any announcement about funding yet, we will explore input from parents, staff, and community members regarding programming priorities and potential partnerships for the proposed new and modernized schools in Nanton.
Thursday, March 2, 2023
6:00-8:00 pm
J.T. Foster High School, 2501 22 Street, Nanton
For more information about the Nanton Solution, including frequently asked questions, visit www.lrsd.ca/nantonsolution.